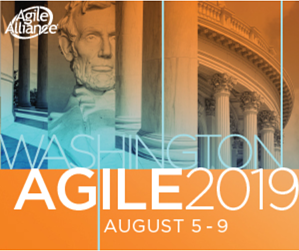 I spent the week of August 5th at Agile2019… my first time at this conference. I left the conference energized, excited, and exhausted. I am grateful for the rich content from the many presenters, the connections made (both new and renewed), and the collaboration that created this experience. As I reflect on the week, I wanted to take a moment to explore some key takeaways from the conference…
Something for everyone
Agile2019 was a big conference. At the Agile Alliance meeting I heard "about 2400 attendees". At any given session timeslot, I had the choice of 18-20 different talks or workshops I could attend, and I had 3-5 "really interesting to me" sessions picked out. Stepping back and looking at the different sessions, I think that there was something for everyone:
More technical and less technical topics – are you a Developer? Coach? Leader? Product Owner or Product Manager? Scrum Master? Consultant? Business Developer? Change Agent? There was something for you!
Learner, Practitioner, and Advanced topics
Talks, Workshops, Fishbowls, and Vendors
"Agile" is not the point
This statement might be a surprise and even controversial… "Agile is not the point." I was part of several conversations regarding how we communicate about "Agile" to people and organizations that are either not familiar with it at all, or who have had a limited or even bad experience with "Agile". One thread that emerged was "When I'm talking with someone new, I don't even use the word Agile. I ask 'What problem are you trying to solve? What challenges are you facing? What opportunities do you see? What outcomes do you want to create?' I can bring in an awful lot from the Agile world (and other worlds) without ever using the word."
What kinds of outcomes are possible?
Greater ability to adapt to external and internal VUCA (Volatility, Uncertainty, Accelerating Change, Ambiguity) and complexity
High-engagement environments where people are able to collaborate and contribute effectively
Products and services (whether internal or external) that are a better fit for the target audience
High congruence between intentions and actions throughout the organization
Increased organizational learning
Leading to:
Greater impact (for organizations driven by purpose / impact)
Greater competitiveness and/or profitability (for organizations driven by these needs)
More positive social/global/environmental impact
Greater experiences for people in all parts of the organization
It's about people
One of the key functions of the Agile20XX conference is facilitating connections between people. Whether it was through sitting at a shared table for a meal, a keynote, or a talk, participating in workshops, or being introduced through mutual connections, the conference was alive with conversations and connections. Some of these out-of-session conversations were the richest learning environments! And thanks to the rise of LinkedIn, I did not bring home a bunch of business cards that will languish on my desk, but have a direct channel to many thoughtful and engaging people!
It's about people, part II
I found that Agile2019 had a lot of content in the "people" dimension. This included:
Also, a sticker "If you mean people, say people (not resources)" showed up on many attendees conference badges.
Knowledge and experience sharing
Of course, the conference was very much about the sharing of knowledge and experience. The presenters were a mix of well-known people in the industry (consultants and authors who bring the experience of working with many organizations) and people who are day-to-day developers, Scrum Masters, leaders and so on (describing what they have learned in applying Agile principles and practices in their organizations).
The importance of leadership
This standout I have left until last because of its impact – the importance of leadership. There was a conference track dedicated to leadership. I noticed several interesting themes:
The need for "sense-and-respond" leadership (vs. command-and-control or predict-and-plan) as VUCA and Complexity increase
Leadership as both a hierarchical function and "small-l" leadership as an everywhere phenomenon
The importance of leadership development as "vertical development" (not just skills and knowledge)
Emotional intelligence, social awareness, empathy, and self-management as essential to effective leadership
Leadership / management's responsibility for "creating the conditions" that enable people and teams to effectively self-organize, solve problems together, and thrive
After this rich and informative experience, I look forward to more!
Originally published August 15th, 2019 on the Innovative Software Engineering blog. Republished with permission.